WolfeCo Media was founded on the idea of telling better brand stories and delivering those stories to the right audience.
I started what I call my second career in the magazine industry. The first, if you could even call it a career, was a stint in banking. It's almost comical to think, an English major in a banking role, which is what happened when I graduated from Auburn University.
Visuals and The Written Word
My excuse to leave banking was graduate school. I had taken an interest in photography to couple with writing and decided that a further education could help me excel in both of those areas. The ultimate goal being that I wanted to work for an outdoor magazine.
So in the fall of 2010 I moved to Savannah, Georgia, to attend the Savannah College of Art & Design (SCAD). While there, I got a job at Dorchester Shooting Preserve in Midway, Georgia, where I convinced the owner to let me take photos of hunters and shooters that I would print and sell to them.
One day while working at Dorchester, I met an outdoor writer named Lloyd Newberry. Dr. Newberry, a retired professor, was getting ready to write an article for Sporting Classics magazine on quail hunting in the south. Probably because I was standing there with my camera and it was convenient, he hired me to take the photos for the article.
A couple years later, I was a soon-to-be graduate and a devout reader of Sporting Classics, which surprisingly, was looking for an associate editor. I applied thinking my chances of even getting an interview were slim to none. Long story short, I got the job. They remembered my name from that photoshoot so a bit of a bridge had already been built. I became the associate editor of the magazine and the editor of Sporting Classics Daily, a daily e-newsletter that I helped launch during my tenure there.
During my magazine years,I served on the boards of the Southeastern Outdoor Press Association (SEOPA) and the Professional Outdoor Media Association (POMA), mostly at the behest of a mentor who had been a long-time outdoor writer and was lobbying for younger folks to get involved.
Both SEOPA and POMA gave me opportunities to meet a lot of people who've played important roles in the development of my career. One of which was Lisa Snuggs, the Executive Director of SEOPA.
J-O-B
That was the subject line of an email I received from Lisa Snuggs in the spring of 2015. It was for a content specialist position at a small digital marketing agency in Nashville called Caddis.
I had left Sporting Classics magazine, though I was still managing Sporting Classics Daily, freelance writing for a few outdoor publications, and serving as the Editor-in-Chief for the now-defunct magazine called The Golf Sport.
After a little research into Caddis and a lengthy interview process of submitting my application and writing samples and meeting the team, I officially accepted a position in the summer of 2015.
Caddis was something different. It was a burgeoning young company that introduced me to the world of digital marketing. On their website, the job description read, "If the only thing you like more than hunting or fishing is writing about it, then this is the job for you."
"Yeah, that's me," I thought.
During my time there, I was introduced to SEO, content marketing, digital advertising, and what it takes for brands to find and reach an audience in the online landscape. It was so new and exciting – far from what had become the grind of getting a magazine from concept to print.
Caddis, and its founder and CEO, Jake Fagan, also taught me about company culture. I'd never heard of this concept before. The employees hung out together after work. We were a tight-knit group. In fact, I'm still in touch with many of my former colleagues, including Jake, who has been supportive since the day I started at Caddis and still plays an important role in my life.
Caddis was acquired by Lewis Communications, a much larger marketing firm, in 2016, which furthered my education in digital and content marketing. I tapped into Lewis' video department, where I learned more about how to film and edit videos.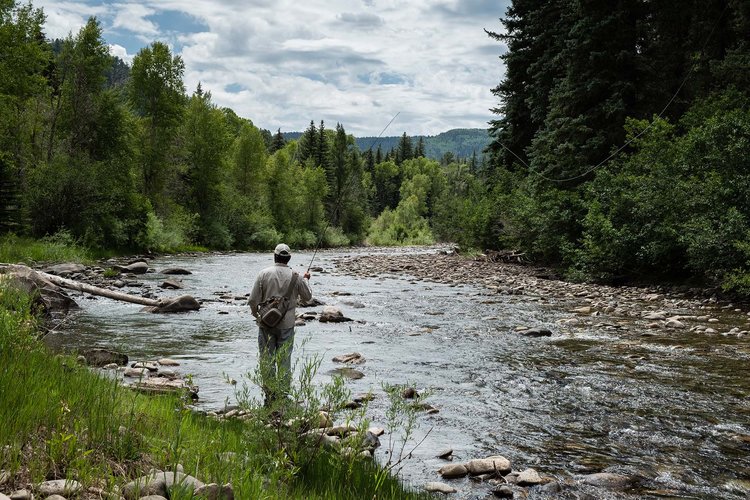 In 2019, I was hired by an apparel company in Colorado to run their marketing department. Leaving Lewis was not an easy decision. But it was a new opportunity and I'm nothing if not curious. I continued to further my knowledge of how to best help brands in the digital landscape as well as navigate a new work environment. The work was intense, and so after a year of 70-hour-plus weeks I was burned out.
The Start of WolfeCo
After taking a little time off, I started making some calls in the hopes that I could generate a little freelance work until the next permanent opportunity came along. That was May 1, 2020. I got a little work to help pay bills and sustain my wife and myself.
That initial work led to more. And those first companies who gave me a chance, eventually became full-time clients. Quite by accident WolfeCo Media began to snowball. We went from a one-person content creator that grew into a host of contractors and eventually added another full-time team member, Alex Howard.
A fellow English major with a degree from the University of North Carolina at Chapel Hill, Alex got her start in digital marketing at an independent children's book publishing company in Atlanta, Georgia. After almost three years of managing Peachtree Publishing Company's social media accounts and email marketing – and Holiday House's when the two companies merged in 2020 – it was time for a change. She moved to Huntsville, Alabama, in the fall of 2021, began the digital marketing job hunt, and officially joined the WolfeCo team in March 2022.
Today, we work across a variety of industries, including wellness, homebuilding, heavy machinery, and of course the outdoors, where we ultimately began. Our company ethos, if you want to call it that, what we believe in, is the notion that we can come to work every single day to help somebody. That could be anything from answering someone's question on Google via a blog we've written for a client or entertaining through a video we created for social media for another.
While we work in every facet of digital marketing from building websites to creating and managing Google Ads accounts, I hope storytelling will always be at the core of WolfeCo Media.
Creating customers for our clients through educational, informational, and entertaining content is what gets us out of bed every morning. It's what I learned from Caddis. And it's in this area that I hope the company continues to evolve so that we may better serve our employees and clients.